Busy beach town with surfing & nightlife
Bustling resort area in Bali known for its surfing, large malls & party atmosphere
Some of the best things to do Kuta can be found on the beach. A favourite surfing coast since the 1970s, you'll find a 2.5-km-long coastline that curves north from Ngurah Rai International Airport in Tuban. The beach is rather popular for sunbathing, so head there the early mornings to claim a spot on the sand. Surfers should be able to enjoy the best waves in Kuta during the dry season (April–August).
For some family-friendly fun, check out Waterbom Bali, one of the best and long-running waterparks on the island. On the coast, beside a lifeguard tower, is Kuta's sea turtle conservation centre, where you can participate in exciting releases. Cultural highlights include village temples, a Barong show, and a significant Buddhist temple in central Kuta.
What are the best things to do in Kuta?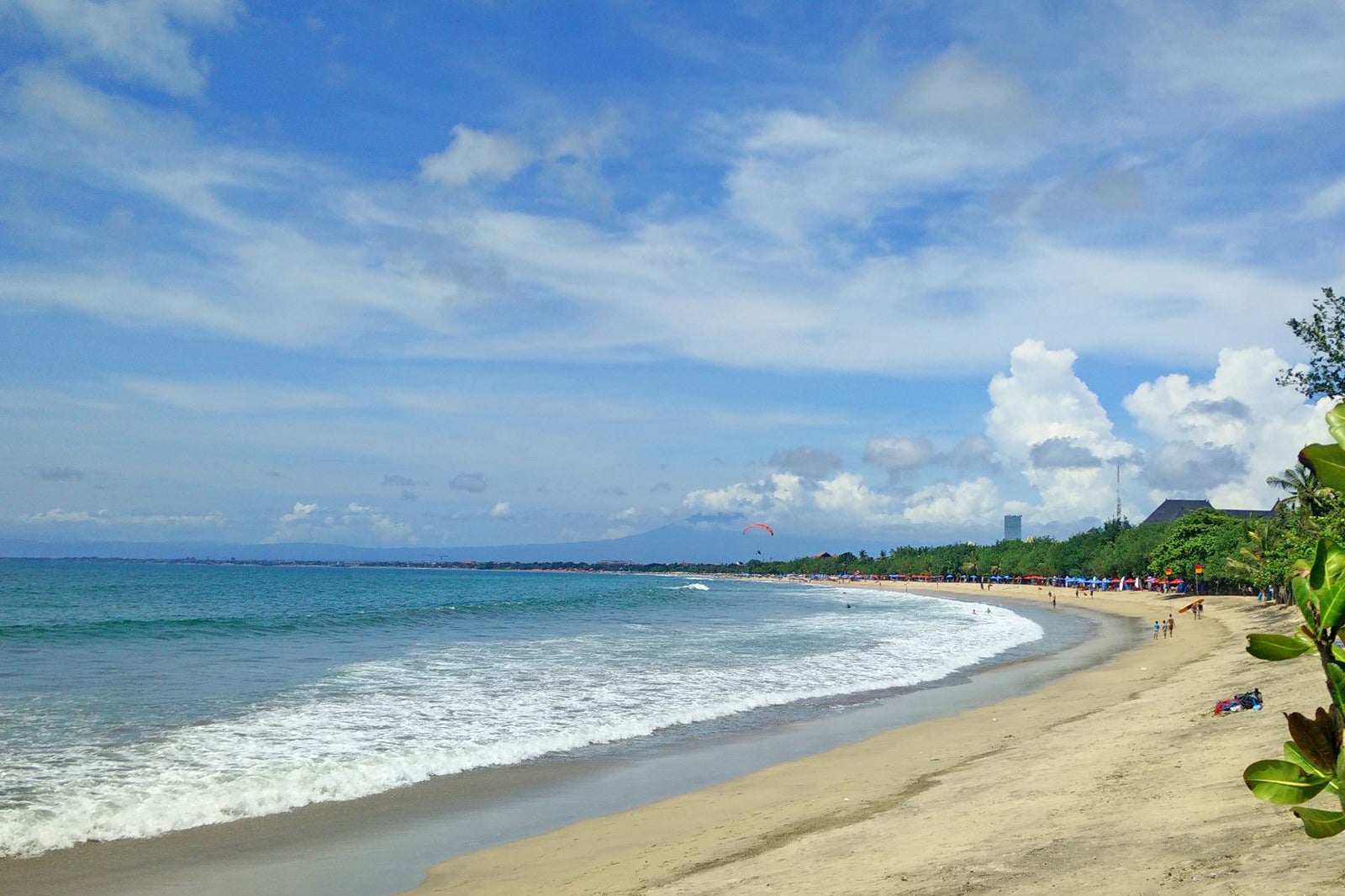 Kuta Beach
Kuta Beach is one of the best places to enjoy Bali's famous sunsets. Located on the island's southwestern coast, you can enjoy sunbathing, surfing, swimming, and beach soccer throughout the year.
Kuta's main beach roads, Jalan Kartika Plaza and Jalan Pantai Kuta, are dotted with resorts, hotels, entertainment spots, shops, and a mix of restaurants and bars. Shopping options include Discovery Shopping Mall and the colourful Kuta Art Market. If you're planning to surf in Bali, the waves at Kuta Beach suit beginner to advanced surfers.  
Location: Pantai Kuta, Kuta, Badung, Bali, Indonesia
Couples
Families
Photo
Budget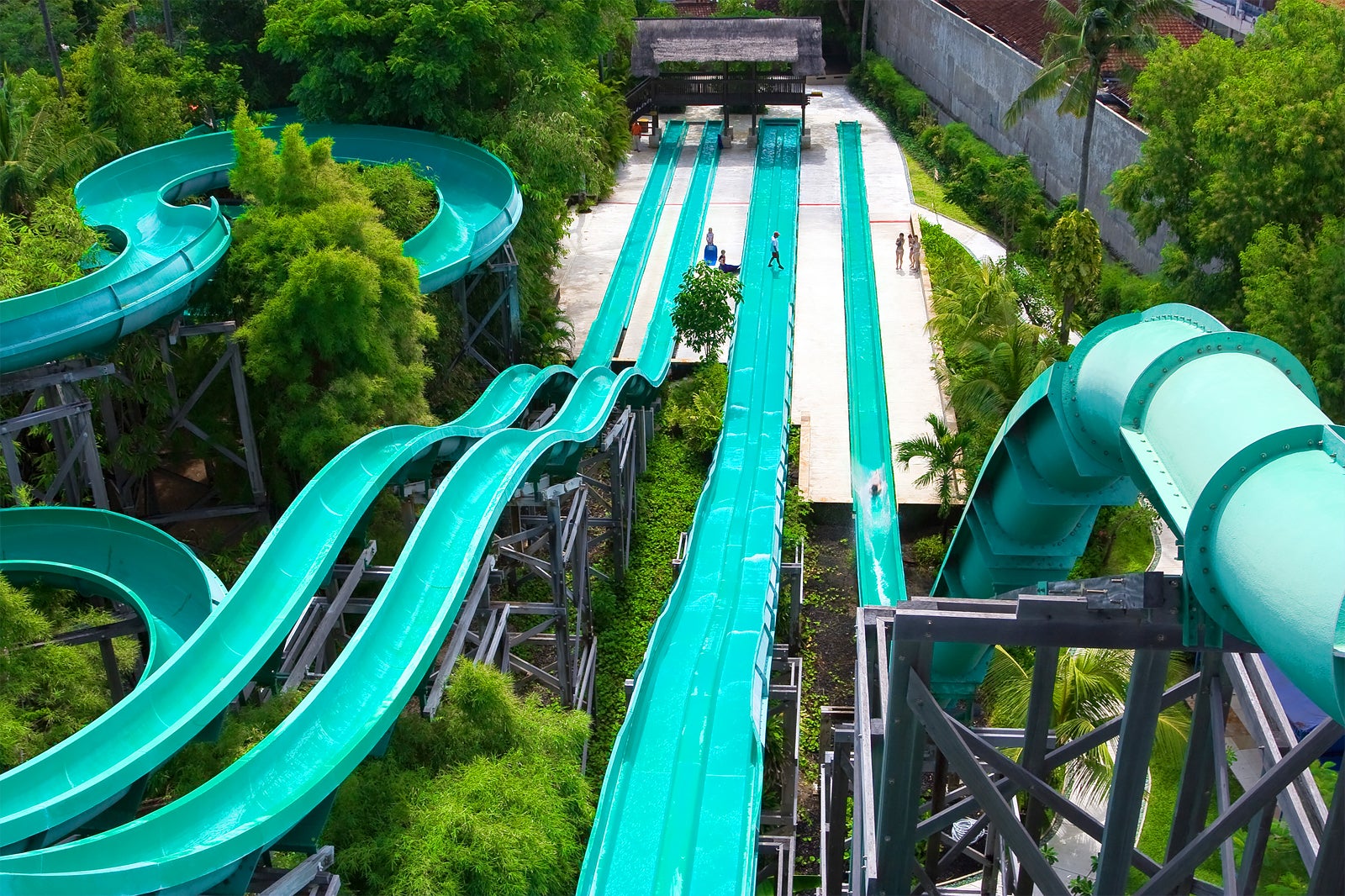 Waterbom Bali
Waterbom Bali offers thrilling waterslides and kid-friendly water games, spread throughout 38,000 sq m of tropical gardens and pools. The waterpark is located along Jalan Kartika Plaza, across the road from Discovery Shopping Mall.
One of Bali's largest waterparks, Waterbom Bali provides plenty of thrills, including the Climax 'super-loop' body slide, Superbowl, Boomerang, Smashdown, and Race Track. After working up an appetite, head over to Waterbom Bali's onsite restaurants, where you can enjoy Indonesian, Japanese, and Mexican dishes.
Location: Jalan Kartika Plaza, Tuban, Bali 80361, Indonesia
Open: Daily from 9 am to 6 pm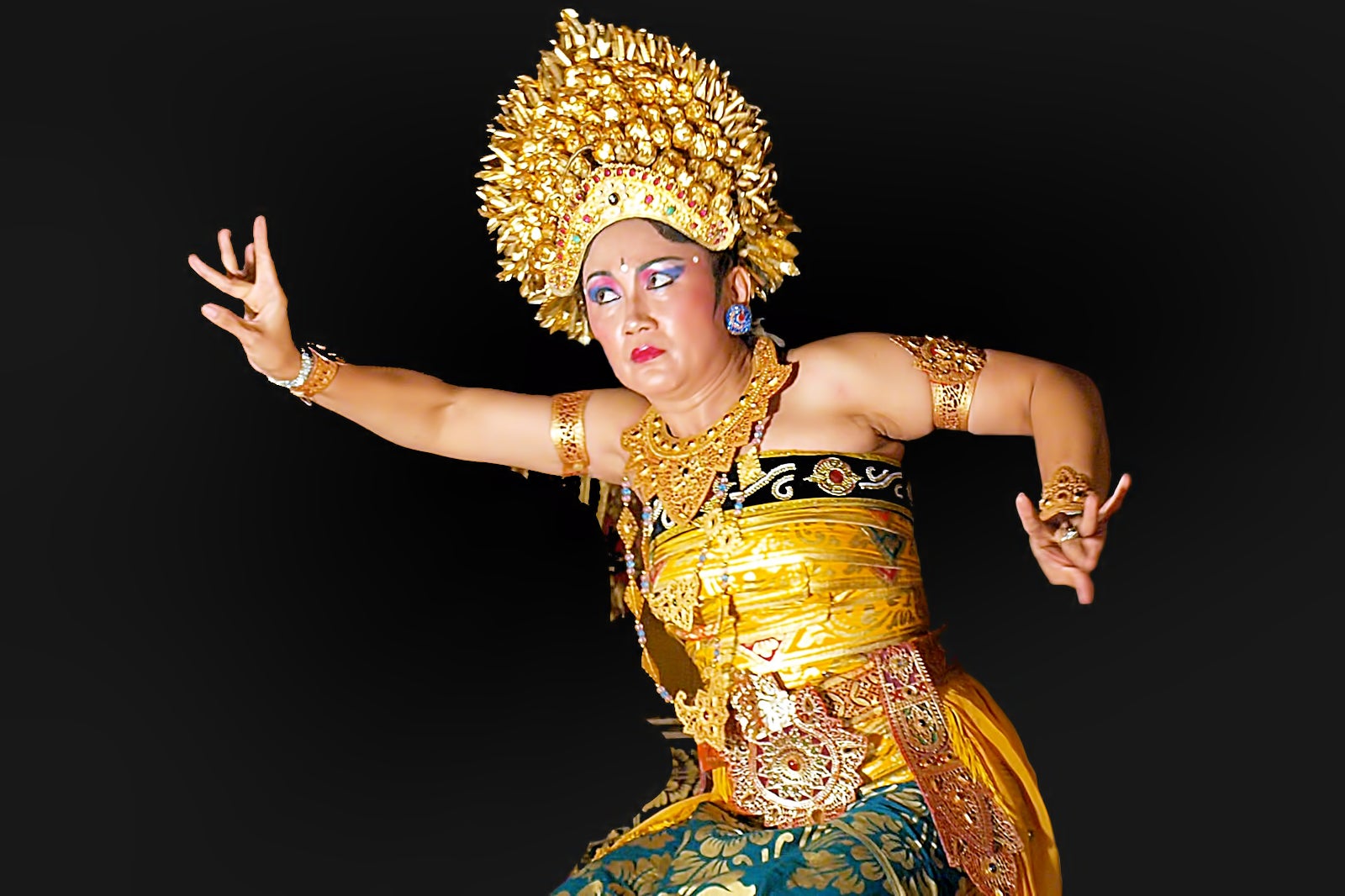 Kuta Theater
Kuta Theater hosts nightly stage performances, with most of its cast in dazzling Balinese dance costumes. Known as Lights of Faith, the show is about a traditional friendship faced with the challenges of modernism. There are fun and hilarious moments mixed in between tense and thrilling illusion scenes. The show also includes magic tricks, ranging from the classic sawing a lady in half, a good deal of diversion and vanishing tricks, levitations, and displacements.
Location: Jalan Kuta Center No.8X, Kuta, Badung, Bali 80361, Indonesia
Open: Thursday–Tuesday from from 5 pm to 10 pm (closed on Wednesdays)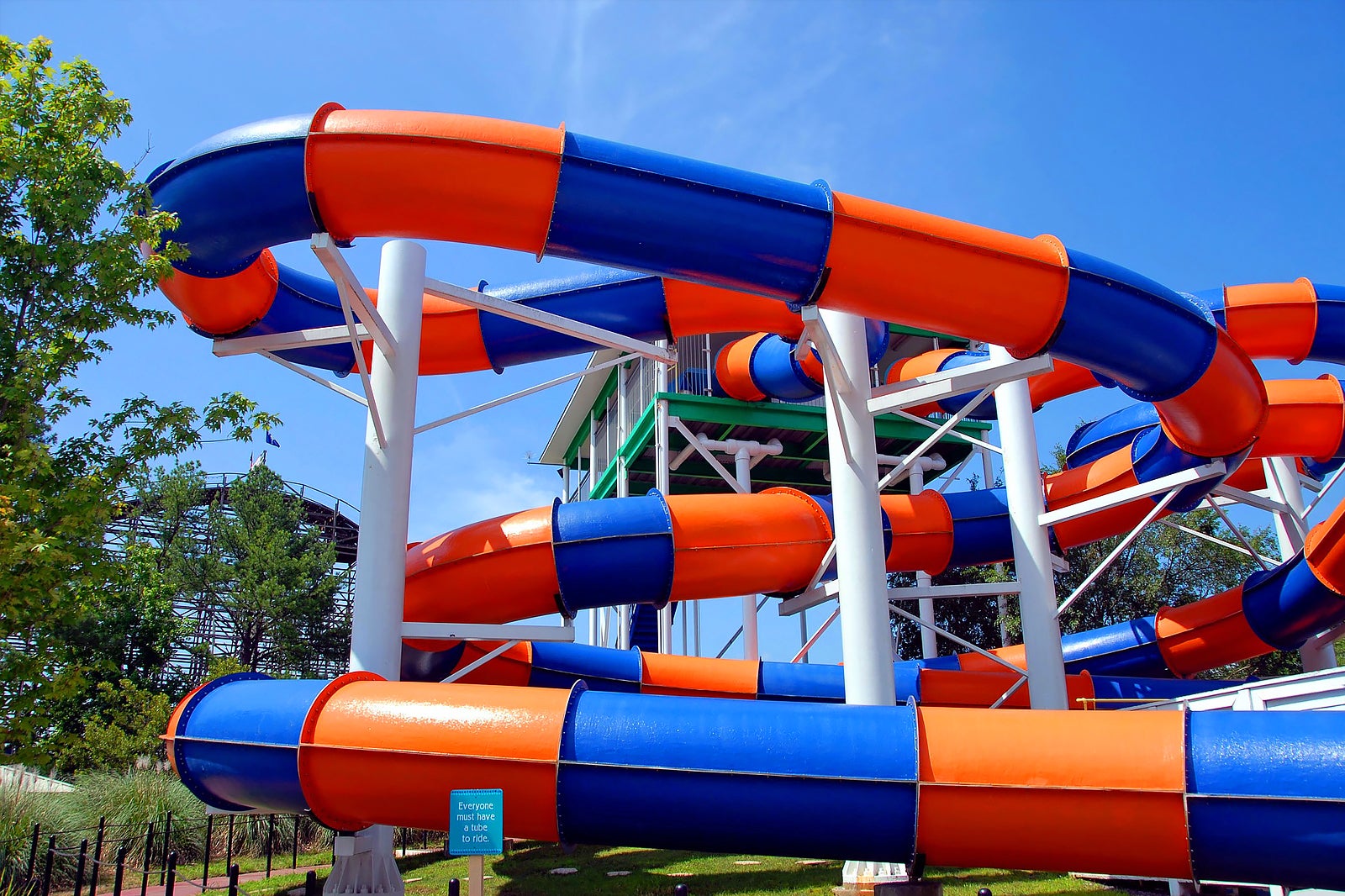 Circus Waterpark
Circus Waterpark is a leisure park on Jalan Kediri in Tuban, about 10 minutes north from Ngurah Rai International Airport. The waterpark has dozens of slides and a lazy river, together with a dedicated kids' area with fountains, water cannons, and mini train rides.
Thrill seekers can opt for more exciting slides, such as the 'speed slider' and 'wave slides'. Circus Waterpark also has a temporary tattoo corner, foot reflexology spa, photo services, and restaurants. Rental fees apply for lockers and towels, as well as gazebos if you want a private, shaded place to relax.
Location: Jalan Kediri, Tuban, Kuta Selatan, Badung, Bali 80361, Indonesia
Open: Monday from 10 am to 6 pm, Tuesday–Sunday from 9 am to 6 pm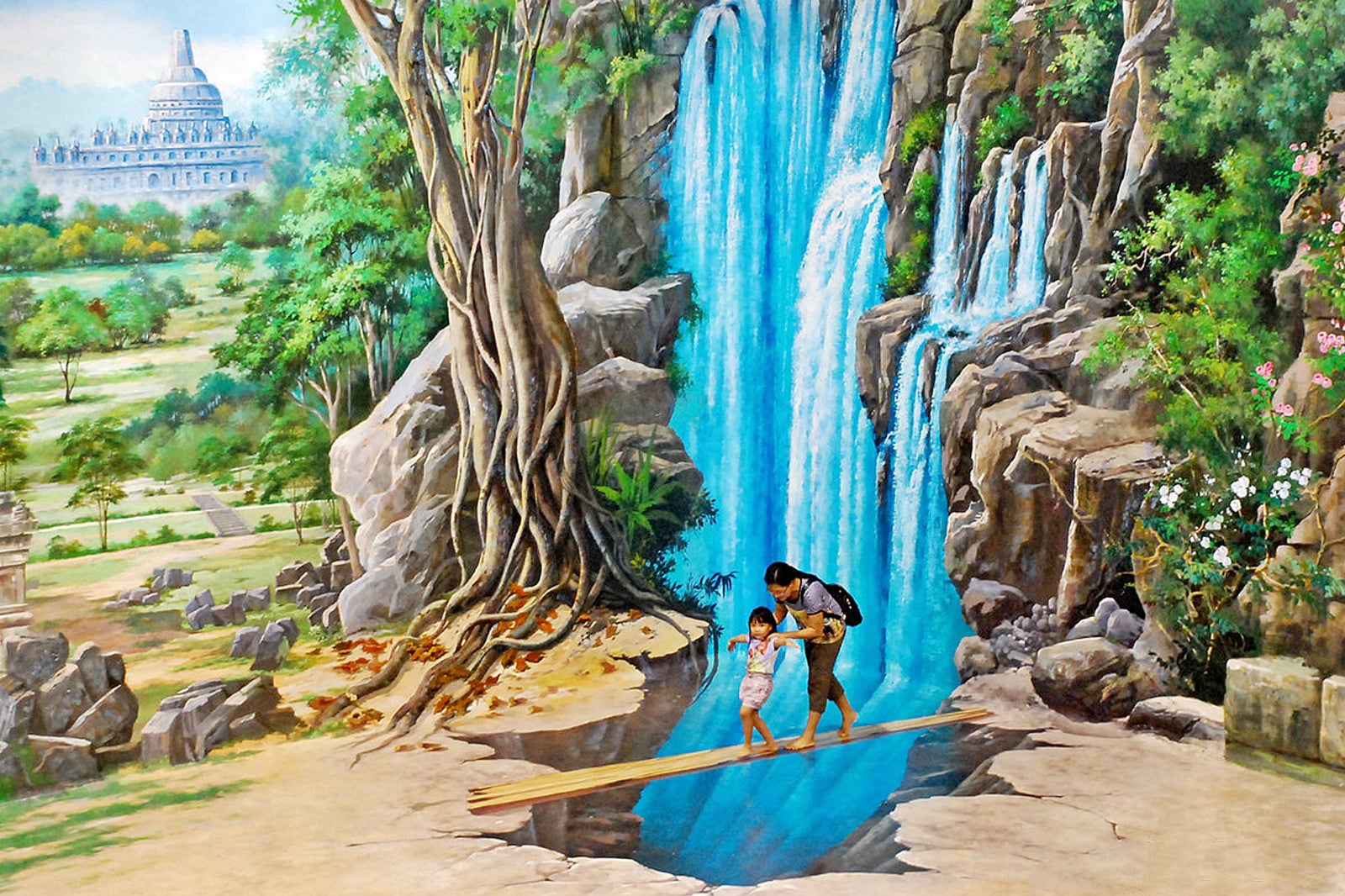 Dream Museum Zone
Dream Museum Zone (DMZ) Bali is a fun art gallery showcasing 120 immersive and life-sized wall paintings. These artworks create a 3-dimensional effect for photos – just set up your camera, pose and play around with the numerous themes available. From being chased by a great white, to crossing a treacherous causeway, you'll easily spend a few hours at Dream Museum Zone. The museum is located on Jalan Nakula, right off the junction of Jalan Dewi Sri and Kuta's Sunset Road.
Location: Jalan Nakula No.33X, Legian, Badung, Bali 80361, Indonesia
Open: Daily from 9 am to 10 pm
Phone: +62 (0)361 849 6220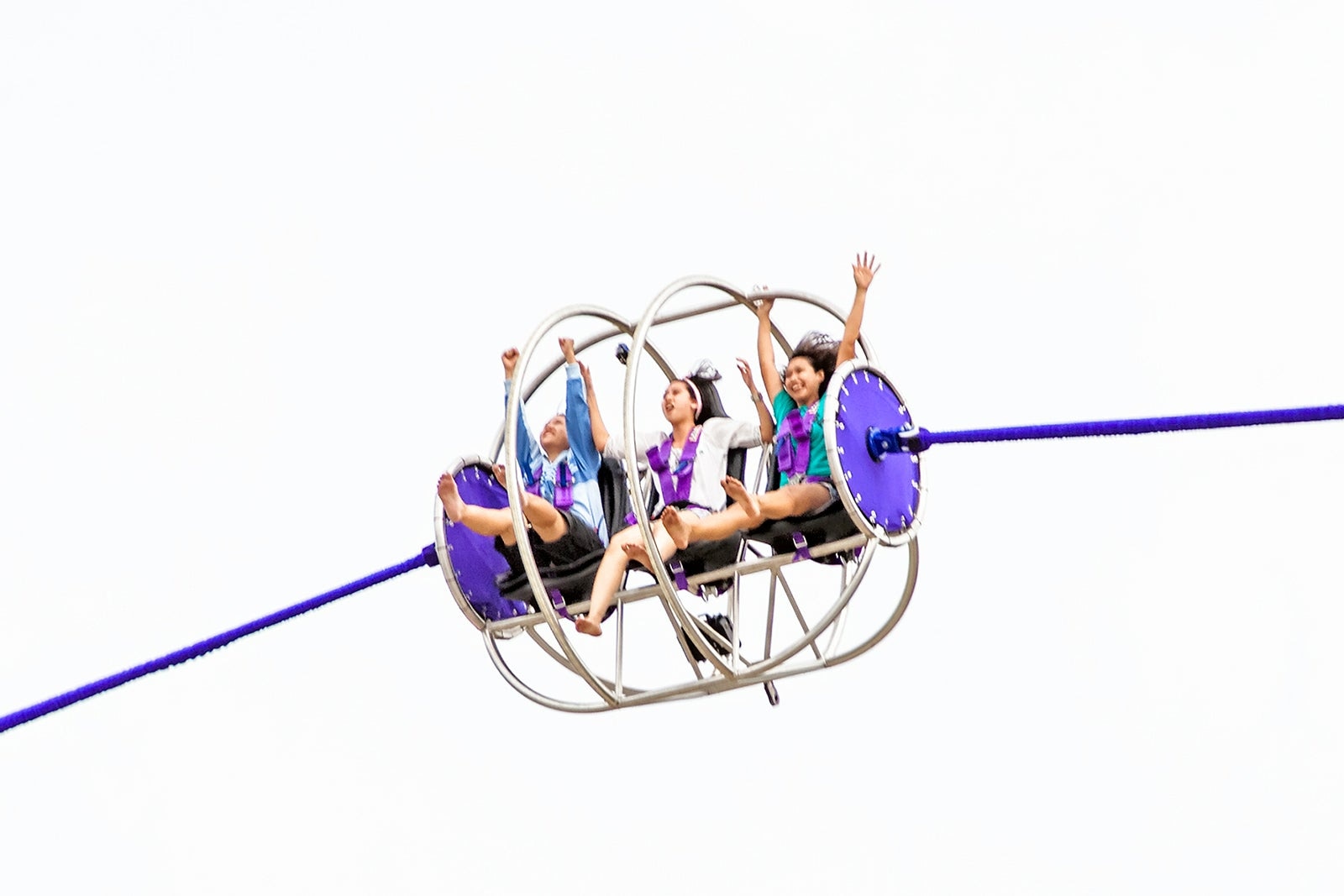 5GX Bali Reverse Bungy
5GX Bali Reverse Bungy is an adrenaline-inducing "reverse bungee" experience in Legian. You simply hop on and fasten your seatbelts and experience the indescribable rush of being catapulted high up into the air at the mind-boggling speed of 200 km/h. As their slogan has it, 5GX offers the only legal way to "get high in Bali." The price of the ride depends on how many people are joining in on the fun – up to 3 people can enjoy this thrilling ride at a time.
Location: Jalan Raya Legian, Kuta, Badung, Bali, Indonesia
Open: Daily from 11 am to 3 am
Upside Down World Bali
Upside Down World Bali has 7 specially designed rooms with décor and furniture that are deliberately arranged on the ceilings. Enjoy a fun day out with your partner or friends and strike many wacky poses, only to end up as gravity-defying stunts in photos.
Upside Down World Bali is definitely a place for families. Cameras on selfie mode don't really work here, but there are friendly staff to help take photos and guide you through the disorientating rooms.
Location: Jalan By Pass Ngurah Rai No.762, Pemogan, Denpasar Selatan, Kota Denpasar, Bali 80221, Indonesia
Open: Daily from 9 am to 8 pm
GOOD FOR:
Couples
Families
Photo
Unusual
Vihara Dharmayana Kuta
Vihara Dharmayana is one of the oldest Buddhist temples in Kuta. Founded in 1876, the temple's main structures are well-maintained, with intricate Far Eastern architecture in bright colours. The courtyard is calm with constant wafts of incense smoke coming from the altars. Slightly hidden on a side-street, Vihara Dharm Ayana Kuta is around 1 km east of the main coastal strip of Kuta.
Location: Jalan Blambangan No.12, Kuta, Badung, Bali 80361, Indonesia
Open: Daily from 9 am to 8 pm
GOOD FOR:
Couples
History
Photo
Budget
Bali Underwater Scooter
Bali Underwater Scooter operates submersible scooters in an underwater garden off the coast of Nusa Ceningan, about a 30-minute boat transfer southeast of Bali. These single-seater Walrus S-1 scooters have small motors and extended steering flaps, travelling at speeds of up to 2 km/hour. Aided by professional divers, you'll pass by coral gardens and exotic marine species. The breathing apparatus resembles a space helmet, providing excellent visibility throughout the tour.
Location: Jalan Setiabudi No. 18, Kuta, Bali 80229, Indonesia
Open: Monday–Friday from 9 am to 6 pm, Saturday from 10 am to 5 pm (closed on Sundays)
GOOD FOR:
Couples
Families
Adventure
Single
Group
Beach football in Kuta
You can enjoy a game of beach football with the locals in Kuta. They usually set up goal posts around 4pm between Hard Rock Hotel and Discovery Shopping Mall, as well as other sections along the beach. Enjoy a few friendly matches before sunset – you might even make a friend or two during your vacation in Bali.
Location: Kuta, Badung, Bali 80361, Indonesia
GOOD FOR:
Kite flying
Flying a kite is a fun, safe activity to enjoy on the beach with your family. Wondering where to buy one? You can easily find a line-up of small shops and vendors selling contemporary models, from sailing ships with rainbow coloured sails to flying foxes.
Do like the locals do by flying traditional Balinese kites, such as Bebean (fish-shaped), Janggan (bird-shaped), and Pecukan (leaf-shaped). After purchasing a design of your choice, find a deserted and windy spot on Kuta Beach and let your kite soar across the sky.
Location: Kuta, Badung, Bali 80361, IndonesiaGOOD FOR:
Surfing in Kuta
Kuta Beach is famous for its high waves and waist-deep water, making it popular among professional and novice surfers. To get some basic knowledge of surfing, you can sign up for lessons with one of the well-known surfing schools lining the beach, such as Odysseys, Rip Curl Surf School, and Bali Surfer Girls Surf School. The next time you come back, as long as you practice, you'll be able to explore Bali's many hidden surf beaches.
Location: Kuta, Badung, Bali 80361, IndonesiaGOOD FOR:
Bali Airport surf breaks
Bali Airport Rights and Airport Lefts surf breaks are popular surf spots in Tuban, approximately 4 km south of the main strip of Kuta Beach. Its name refers to the waves that form on both sides of the westernmost end of Ngurah Rai International Airport's landing strip. Beginners can enjoy the considerably rideable waves near the shore, while bigger swells of up to 1.5 metres are beyond a reef that requires a boat ride out.
Location: Tuban, Kuta, Kabupaten Badung, Bali 80362, Indonesia
Bali Bombing Memorial
The Bali Bombing Memorial (also called Ground Zero) was built as a permanent tribute to the fallen victims of the 2002 Legian bombing. Located on the border of Kuta and Legian, it takes over the site of the destroyed Paddy's Pub that once stood on the main Legian road. The bar has since relocated to Jalan Legian and renamed as Paddy's: Reloaded.
The Ground Zero memorial is made of intricately carved sandstone, set with a large marble plaque bearing the names and nationalities of the victims. The monument is well-maintained by the local government and is illuminated at night. A memorial ceremony to honour the victims takes place every year on 12th October.
Location: Jalan Legian, Kuta, Badung, Bali 80361, Indonesia
Discovery Esplanade Bali
Discovery Esplanade is part of Kuta's Discovery Shopping Mall. The beachfront amphitheatre occasionally hosts annual celebrations, as well as live DJs, concerts, and product launches. It's also one of the best spots to enjoy sunset views in Kuta Beach. Depending on the time of the year, you might be able to enjoy kecak (fire dance) performances, sports tournaments, and food festivals at Discovery Esplanade Bali.
Location: Jalan Kartika Plaza, Kuta, Badung, Bali 80361, Indonesia
Open: Daily from 10 am to 10 pm
Kuta Beach Walking Street
The Kuta Beach walking street (Jalan Pantai Kuta) is one of Kuta's main thoroughfares. This one-way street continues from where Legian's main nightlife and shopping street, Jalan Legian, ends. Jalan Pantai Kuta starts from the Bemo Corner intersection, where you can find small souvenir shops, spas and art kiosks.
The midsection area of the Kuta Beach Walking Street is lined with spas, beauty salons, souvenir and art kiosks, motorbike rentals, and money changers. The Kuta Square shopping arcade is a nice stop before you hit the coastal section of Kuta Beach walking street
Location: Jalan Pantai Kuta, Legian, Badung, Bali, Indonesia
GOOD FOR:
Kuta Sea Turtle Conservation Site
The Kuta Sea Turtle Conservation Site is a sea turtle hatchery and educational facility next to the Balawista lifeguard tower. A joint effort with the Bali Sea Turtle Society, the centre has released over 10,000 hatchlings since 2011. It usually gears up for the breeding season (June–July), when thousands of turtle eggs hatch on temporary sites around the sands of Kuta. The centre's eye-catching statue of a sea turtle serves as a hatching pen and photo spot in Kuta. Check their website for release schedules to take part in a 'baby turtle race'.
Location: Jalan Pantai Kuta, Kuta, Badung, Bali 80361, Indonesia
Phone: +62 (0)811 388 2683GOOD FOR:
New Kuta Golf in Bali
New Kuta Golf is one of Bali's most scenic but challenging 18-hole championship courses. Its green landscape was carved out of white limestone cliffs, overlooking the Indian Ocean. Its signature Hole 15, nicknamed "The Cliff Hanger", offers views of the Indian Ocean and Balangan Beach.
The golf club has a pro shop, reception rooms, dining areas, lockers, and a conference room with a grand reception for championship events. The Links Restaurant serve Indonesian and international dishes. Enjoy Balinese massages and treatments at New Kuta Golf's onsite spa centre.
Location: Jalan Raya Uluwatu,, Kawasan Pecatu Indah Resort Pecatu, Jimbaran, Kuta Selatan, Badung, Bali 80361, Indonesia
Poppies Lane Walking Streets in Bali
There are 2 Poppies Lanes that serve as shortcuts to the beaches of Kuta and Legian. Poppies Lane is also popular for its selection of budget stays, particularly if you're looking for a cheap guesthouse, homestay, or losmen (inn), right in the middle of Bali's 2 most popular beach resort areas. From here, you can easily reach Kuta Beach, or the exciting nightlife hub of Legian, all within an easy 15-minute stroll. The lanes were named after the Poppies Bali Restaurant, which has been around since the early 1970s and was believed to have been developed by former Californian restaurateurs.
Location: Kuta, Badung, Bali 80361, Indonesia
GOOD FOR: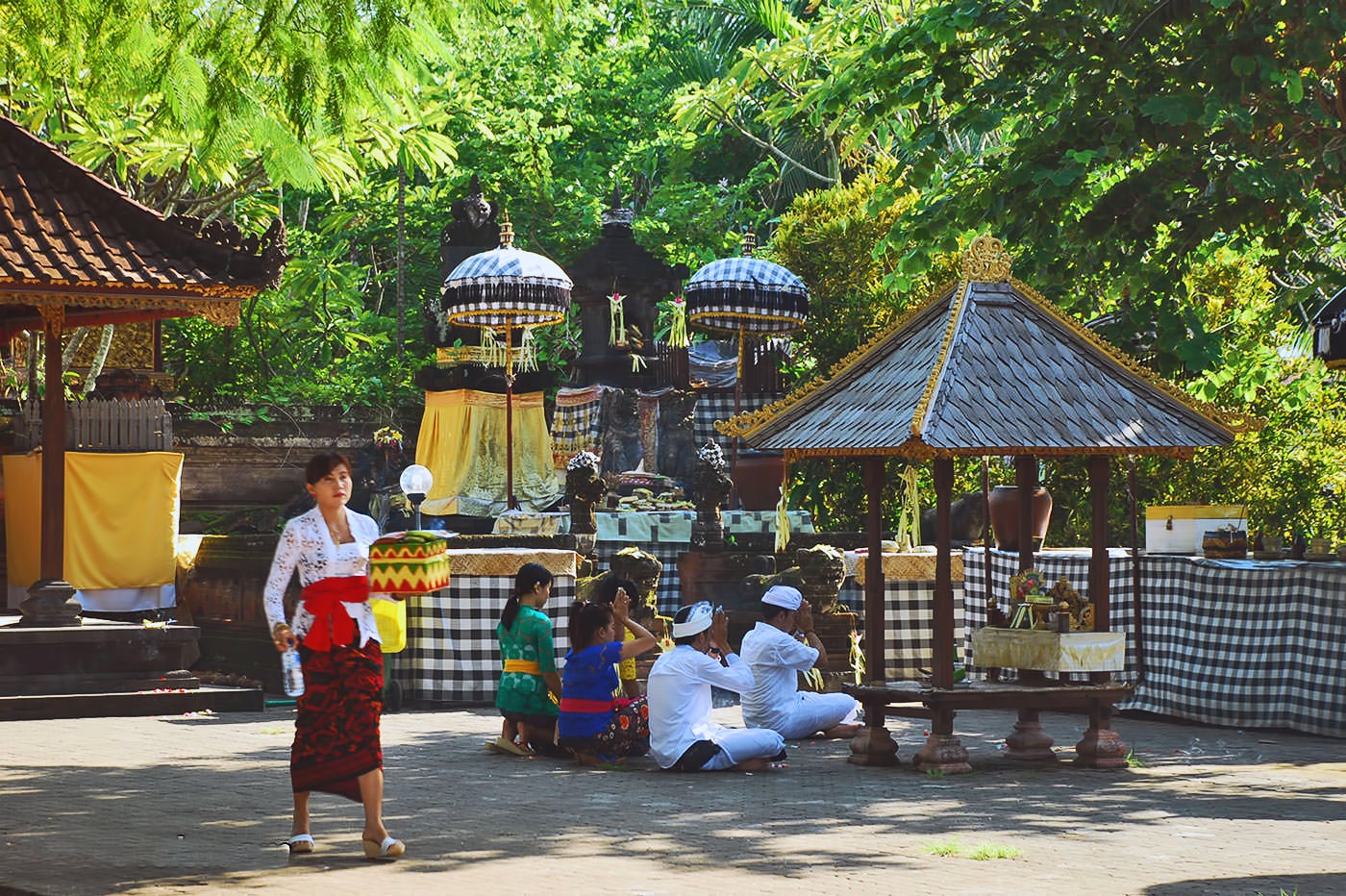 Temples in Kuta Beach
Temples in Kuta Beach can be found along the main road, where you can see Balinese praying and presenting offerings in the mornings and evenings, just after sunset. Some of the most visited Kuta temples include Pura Kalangan Majelangu, Pura Batu Bolong, and Pura Penataran.
Pura Kalangan Majelangu is busy during holy days and ceremonies, such as Melasti, which takes place 3 or 4 days before Nyepi (Bali's day of silence). During Melasti, locals gather to send prayers and offerings to the Supreme God of Indonesian Hinduism, or Sanghyang Widhi, on Kuta Beach.
Location: Kuta, Badung, Bali 80361, Indonesia
GOOD FOR:
Couples
Families
History
Photo
Budget
Pandora Experience Bali
Pandora Experience Bali, located in Kuta, offers fun escape games thanks to its 4 uniquely themed rooms. Designed for teams of 2 to 10 people, you'll be put into thrilling scenarios that require teamwork to solve puzzles, face endless surprises, and discover hidden passages to escape the room within 2 hours.
The games are designed to give your brain a good workout and get your adrenaline rushing. Pandora Experience Bali's escape rooms also serve as a fun team-building activity for families and groups.
Location: Jalan Dewi Sri No.45 D, Legian, Kuta, Badung, Bali 80361, Indonesia
Open: Daily from 10 am to 8 pm
Phone: +62 (0)878 6225 1822
---
Known for its plethora of ancient ruins, whitewashed villages, sunny beaches, tasty cuisine and friendly atmosphere, it is no wonder that Greece ranks among Europe's top travel destinations. But the reason that tourism exists in the first place is that it's just so beautiful here. Often, you'll find that beauty on the many scattered islands, lying… Read More 10 Best Places to Visit in Greece
With a fascinating history that reaches back to the dawn of civilization, Egypt is considered the oldest travel destination on earth. The African nation's awe-inspiring temples and pyramids have captured the imagination of travelers for thousands of years. Although most people come to Egypt to view its ancient monuments, natural attractions beckon travelers too. The… Read More 10 Best Places to Visit in Egypt
Destinations that are a must-see in the year to come—and that are destined to be international hotspots by the end of the next decade. 1. Uzbekistan OZBALCIGETTY IMAGES There are only a handful of manmade structures on our planet—like the Eiffel Tower, Sydney Opera House, and the Pyramids—that elicit a visceral awe in us all.… Read More The 20 Best Places to Travel in 2020