Cookie Dough Cookie Sandwiches
DIRECTIONS
Preheat oven to 350°. Line two large baking sheets with parchment paper.
Roll cookie dough into 16 – 1" balls and place on baking sheets 2" apart. Bake until golden and just set in the middle, about 15 minutes. Let cool completely.
Meanwhile, make cookie dough filling: In a large bowl, beat butter and sugars together until light and fluffy, then add vanilla. Add almond flour and salt and beat until incorporated, then beat in heavy cream. Fold in chocolate chips.
Turn half the cookies upside down and using a medium cookie scoop, scoop about 2 tablespoons worth of cookie dough on top. Top with remaining cookies.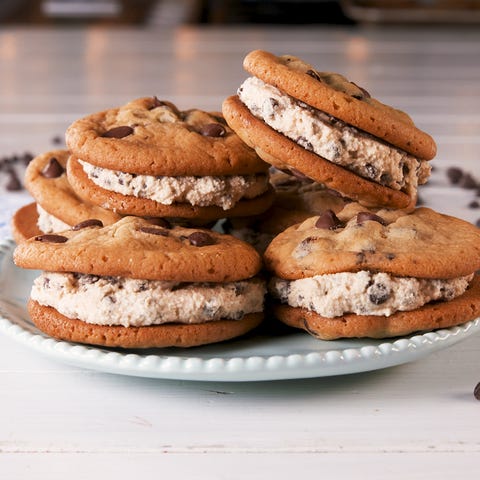 ---
Ingredients Decrease Serving 22 1-3/4 cups and 1 tablespoon all-purpose flour 1 teaspoon salt 1-3/4 teaspoons baking soda 3/4 cup and 2 tablespoons and 2 teaspoons butter or margarine 1-3/4 cups and 1 tablespoon white sugar 1-3/4 cups and 1 tablespoon mashed overripe bananas 3-3/4 eggs, beaten 1-1/3 cups and 1 tablespoon chopped walnuts Directions… Read More Extreme banana nut bread recipe
Creamy and delicious oat milk! This homemade oat milk recipe is 5 easy ingredients, ready in minutes, and delicious in tea or coffee or poured over cereal. All you need is some rolled oats in your cupboard and you're good to go. Add some maple syrup, or other syrup of your choice, vanilla extract and… Read More how to make oat milk
Ingredients 6 thick slices bread 2 large eggs eggs ⅔ cup milk ¼ teaspoon ground cinnamon ¼ teaspoon ground nutmeg 1 teaspoon vanilla extract salt to taste Directions Step 1Beat together egg, milk, salt, desired spices and vanilla. Step 2Heat a lightly oiled griddle or skillet over medium-high heat. Step 3Dunk each slice of bread… Read More how to make french toast