Lemon Chicken Wraps
These wraps were inspired by a photo of chicken flatbread wraps that went viral on our Facebook page. When you consider the charred lemony kebabs, the creamy Sriracha sauce, and the fluffy flatbread, it's easy to understand why. If you don't have time to marinate the chicken, season it with Italian seasoning, garlic powder (instead of cloves), salt, and pepper, then squeeze lemon juice over it once it's cooked. 
Not a fan of pita? We've got plenty more easy wrap inspiration. 
YIELDS:4 SERVINGSPREP
TIME:0 HOURS 5 MINS
TOTAL TIME:0 HOURS 50 MINS
INGREDIENTS
1/4 c. plus 2 tbsp. extra-virgin olive oil, divided
Juice of 3 lemons, divided2
cloves garlic, minced1 tsp.
Italian seasoning
Kosher salt
Freshly ground black pepper1 lb.
boneless skinless chicken breasts1/2 c.
plain Greek yogurt1/2 tsp.
paprika
Hot sauce, to taste
Pita bread
Butterhead lettuce
Sliced tomatoes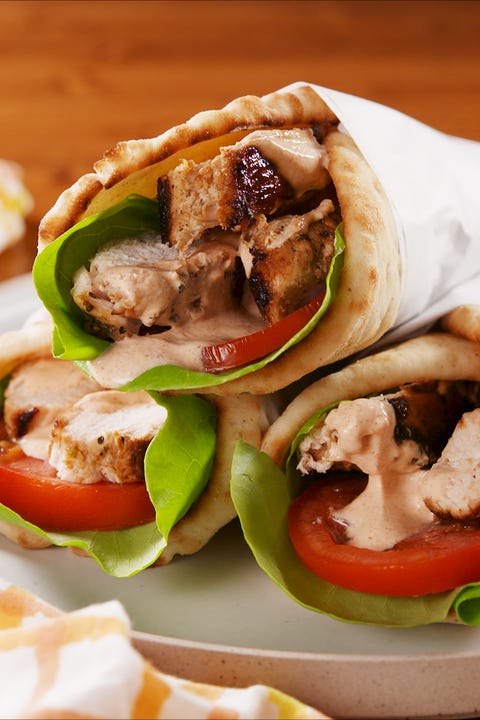 DIRECTIONS
Make marinade: In a small bowl, whisk together 1/4 cup oil, juice of 2 lemons, garlic, Italian seasoning, salt, and pepper. To a large ziploc bag, add chicken breasts and marinade and toss to coat. Let marinate for at least 30 minutes and up to 4 hours.
In a large skillet over medium-high heat, heat remaining two tablespoons oil. Add chicken breasts and cook until golden and cooked through, about 8 minutes per side. Remove from pan and let rest a few minutes, then slice.
Make spicy yogurt sauce: In a small bowl, mix together yogurt, hot sauce, remaining lemon juice, and season with paprika and more salt.
Assemble wraps: To a piece of pita, add lettuce, tomato, chicken slices, and drizzle with spicy yogurt sauce. Wrap in a piece of parchment and serve.
Ingredients Decrease Serving 22 1-3/4 cups and 1 tablespoon all-purpose flour 1 teaspoon salt 1-3/4 teaspoons baking soda 3/4 cup and 2 tablespoons and 2 teaspoons butter or margarine 1-3/4 cups and 1 tablespoon white sugar 1-3/4 cups and 1 tablespoon mashed overripe bananas 3-3/4 eggs, beaten 1-1/3 cups and 1 tablespoon chopped walnuts Directions… Read More Extreme banana nut bread recipe
Creamy and delicious oat milk! This homemade oat milk recipe is 5 easy ingredients, ready in minutes, and delicious in tea or coffee or poured over cereal. All you need is some rolled oats in your cupboard and you're good to go. Add some maple syrup, or other syrup of your choice, vanilla extract and… Read More how to make oat milk
Ingredients 6 thick slices bread 2 large eggs eggs ⅔ cup milk ¼ teaspoon ground cinnamon ¼ teaspoon ground nutmeg 1 teaspoon vanilla extract salt to taste Directions Step 1Beat together egg, milk, salt, desired spices and vanilla. Step 2Heat a lightly oiled griddle or skillet over medium-high heat. Step 3Dunk each slice of bread… Read More how to make french toast